Restaurant Café
Open daily from 11 AM
Lumière's magnificent Restaurant Café is built in the old power station of the Sphinx Factories. Enjoy the most delicious dishes and refreshing drinks on the Bassin, with gorgeous views over the water.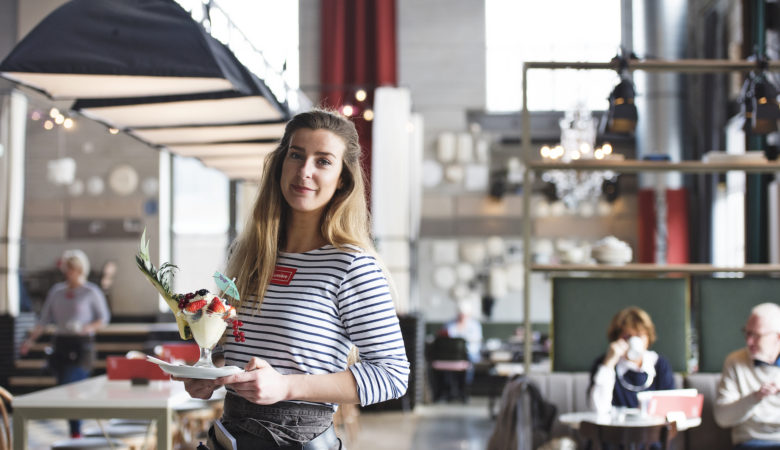 Take an after-work drink and/or sit down later to a delicious three-course dinner. Keep it simple with a quick, tasty bite before watching a film. From a healthy spelt pasta to tasty street food, there's something for everyone.
Lumière Restaurant Café open daily from 11:00! Dinner reservations are recommended (via +31 43 321 40 80).
---
Kitchen Lumière temporarily closed on Monday
At Lumière we value quality. As you might be aware, there's a national shortage of chefs that, unfortunately, we're dealing with as well. While we're looking for new chefs, we can't live up to the expected food-quality seven days a week. Therefore, we are closing our kitchen on Mondays. Lumière Cinema Restaurant Café is open on Monday from 16.00-01.00. Of course, you're welcome for a drink to bring with you to the cinema from 16.00hrs on Monday. We are working hard to open up our kitchen seven days a week again.
Opening hours
Monday: 16:00 - 01:00 (kitchen closed)
Tuesday - Sunday: 11: 00 -01:00
Sunday Film Breakfast, the best way to start your day.
Have yourself a nice breakfast before you go see a movie on Sunday.
Among others, we serve bread rolls, sweet and savoury spreads, a boiled egg, fresh fruit and Greek yoghurt with honey. The Film Breakfast costs €19,- (including one film ticket, breakfast, a glass of freshly squeezed orange juice and coffee or tea).
* Please make your reservation via +31 43 321 40 80 or at our box office. Available on Sunday before film screenings which start around 12.00. Reservations can be made until Saturday 22:00. It's recommended to arrive an hour before your film starts.