Restaurant Café
Open daily from 11 AM
Lumière's magnificent Restaurant Café is built in the old power station of the Sphinx Factories. Enjoy the most delicious dishes and refreshing drinks on the Bassin, with gorgeous views over the water.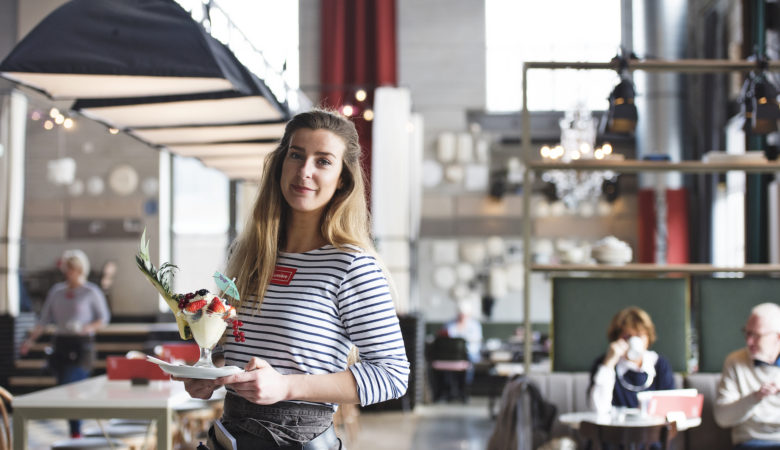 Take an after-work drink and/or sit down later to a delicious three-course dinner. Keep it simple with a quick, tasty bite before watching a film. From a healthy spelt pasta to tasty street food, there's something for everyone.
Make your reservation online or call 043 - 321 40 80.

(!) Keep in mind that it can be very busy at Lumière, especially on weekends. Our staff does its utmost best, but in such a case it may take longer before we can help you. Are you going to the movies? Ask our staff if you have enough time for dinner.
In these times, we're taking a couple of extra precautions to make your visit as safe and pleasant as possible:
No symptoms? Then you're more than welcome!
For our restaurant, a reservation is recommended. It isn't possible to make a reservation for our terrace.
Pay contactless or with PIN
Wait until our staff guides you to a table.
Are you with someone who's not from your own household? Then you're allowed to sit at a table with no more than two people.
Sunday Film Breakfast, the best way to start your day.
Have yourself a nice breakfast before you go see a movie on Sunday. The Film Breakfast costs €19,- (including one film ticket, breakfast, a glass of freshly squeezed orange juice and coffee or tea).

* Please make your reservation via +31 43 321 40 80 or at our box office. Available on Sunday before film screenings which start around 12.00. Reservations can be made until Saturday 21:30. It's recommended to arrive an hour before your film starts. The breakfast is served from 11:00 hrs.